How To Dress For Your Body Type
How To Dress For Your Body Type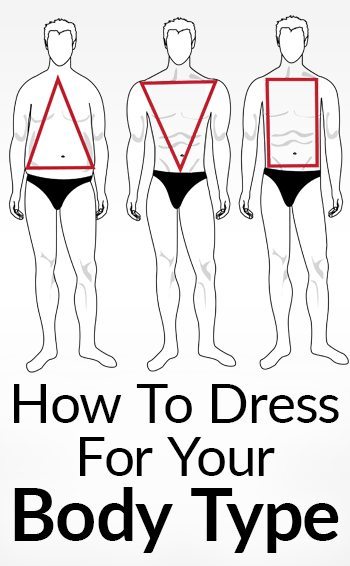 Ever see an image of an AMAZING outfit?
Then try to replicate it?
Chances are, you don't have the same body type as the guy in the photo.
Don't worry though. You can still look great!
This article is going to teach you how to dress for your body type.
Before we get started there are a couple housekeeping rules.
Your body type and shape should always take preference over fashion trends.
Know your tailor on a first name basis. You should trust them like your best friend.
Dress for the body you have NOW…don't put off wardrobe improvements for that 2-year diet plan you've been working on.
Learn to emphasize the best aspects of your build and divert attention away from your undesirable features. Let's get into it.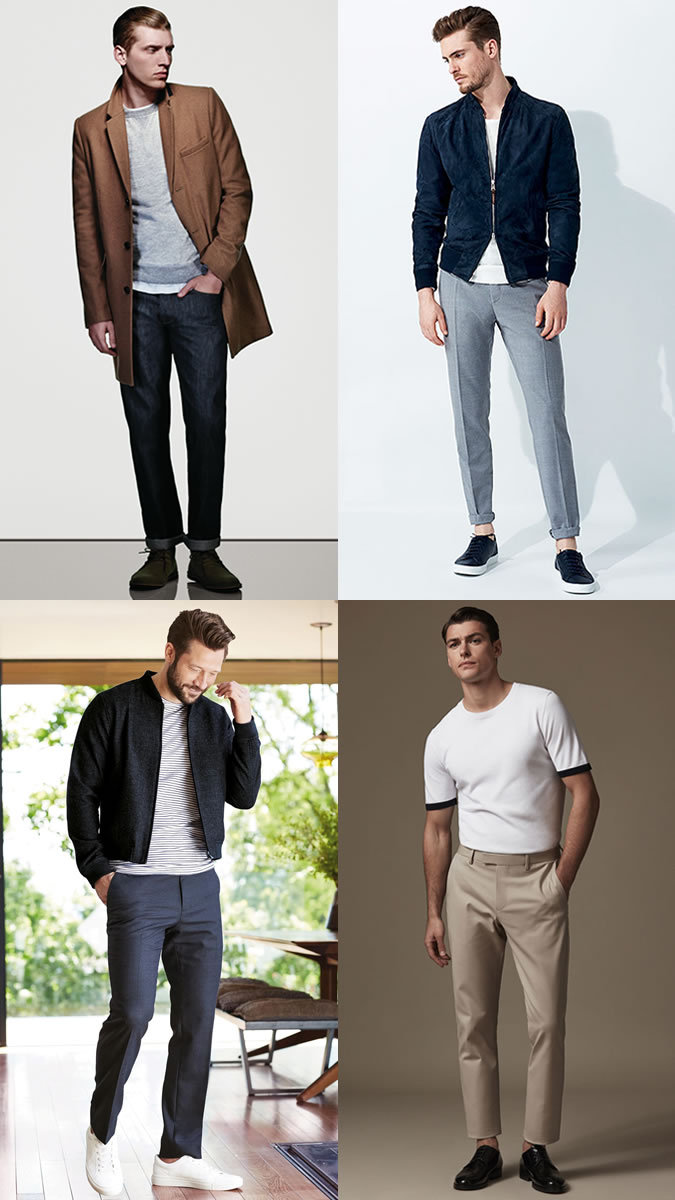 Clothing For Men With Triangular Body Shape:
Tailored patterned blazers: Wear checked blazers and fitted waistcoats with solid trousers. The mix of prints and solid colors will create the illusion of shape and take the focus away from the larger waist.
Vertical stripes: This pattern creates a streamlined effect that elongates and slims down the upper body. Horizontal stripes are preferred only if they are visible from the chest upward.
Jackets with structured shoulders: Slouchy shoulders on jackets (bomber jackets, for instance) will exaggerate your already sloping shoulder line. Structured shoulders (on a topcoat for instance), square off your frame.
Single-breasted suits: Double-breasted jackets add bulk to the waist. Single-breasted jackets allow for a more relaxed and slimming fit. Get your jackets tailored for a structured fit on the top but with extra room around the waist.
Brighter color panels: Patterns and detailing across the chest and shoulders help to broaden the narrow upper torso. Wear jumpers and crew neck tees with color panels across the chest but a slimming darker color like gray, navy or black around the mid-section.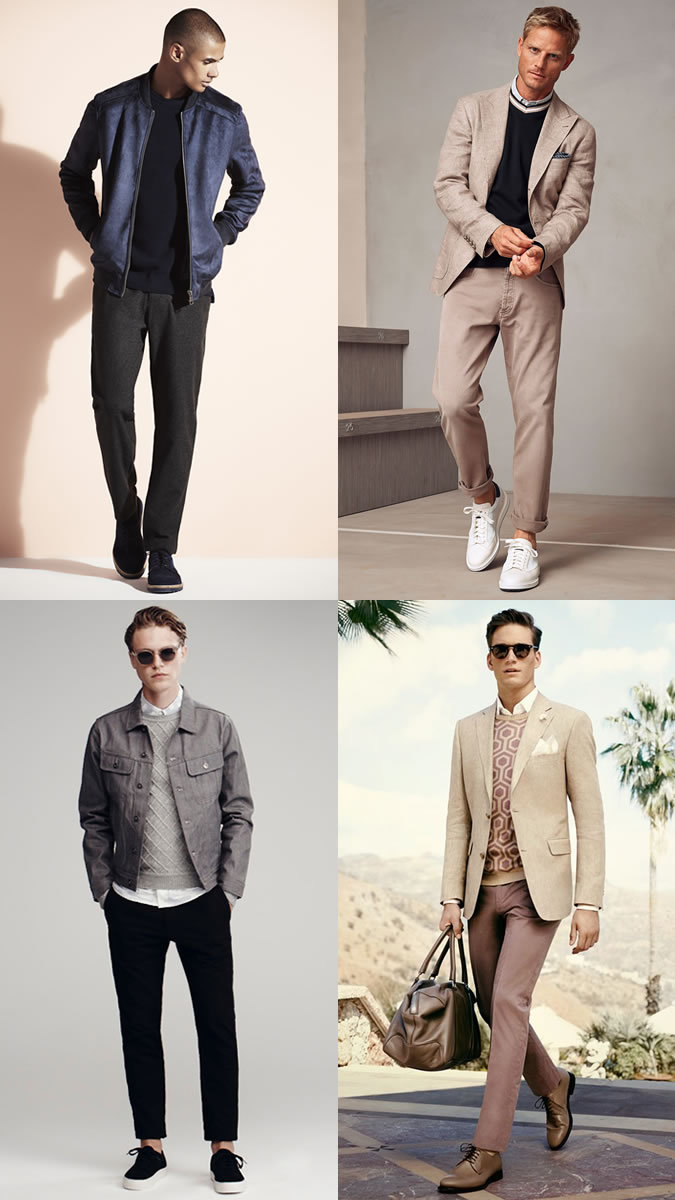 Clothing For Men With Inverted Triangular Body Shape:
Your goal should be to show off your toned and fit body.
Horizontal stripes: Especially from the chest down, to broaden your comparatively narrow waist.
Slim-fit shirts: You can wear shirts to show off your incredibly fit body but remember to size up. You want to hint subtly at your fitness, not scream it by wearing figure-hugging costumes.
Slim cotton polo shirt: With a spandex mix will allow stretch across a broad set of shoulders and chest while creating a tailored look around the waist.
Regular V-neck T-shirts: The collar shape has a narrowing influence on your chest and draws the eye down and away from the broadest part of your torso. Stay away from plunging V-neck t-shirts.
Straight-leg trousers and jeans: Skinny jeans will accentuate your chicken legs. Slim fit pants will do just fine. Wearing patterned pants, camo shorts or checked trousers distracts from your comparatively broad upper body.
Trousers with larger seat drop: Athletes have the common problem of finding pants that are roomy around the groin area. Look for a larger drop measurement between the waistband and the crotch seam.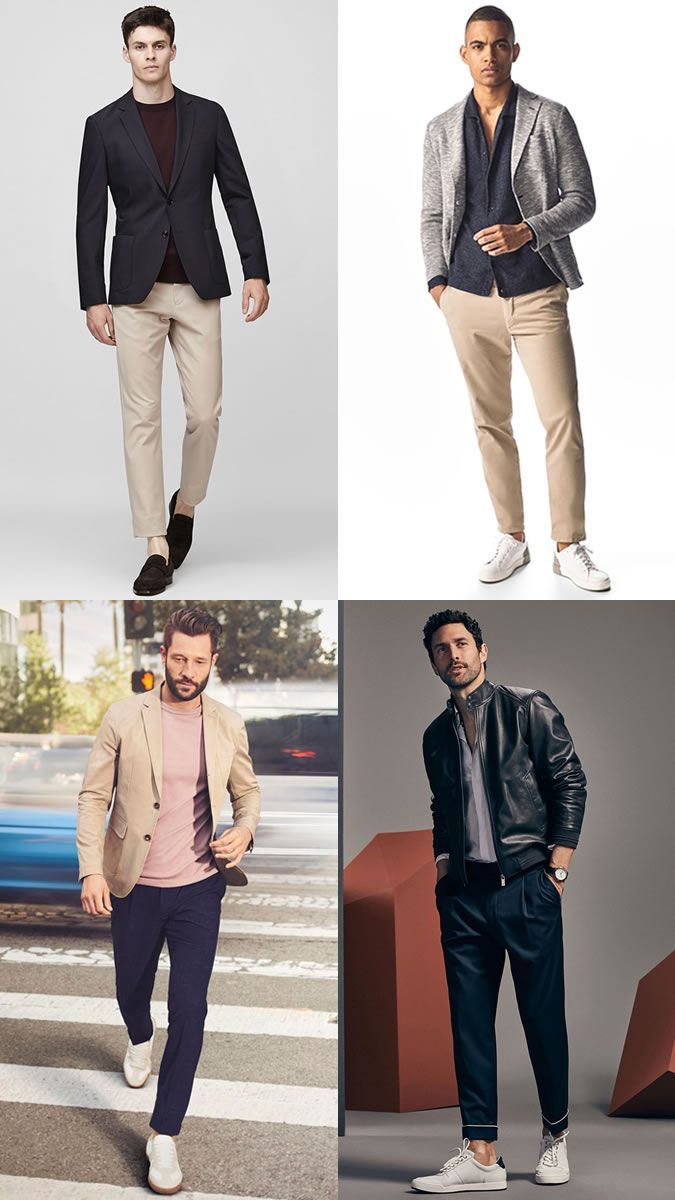 Clothing For Men With Trapezoid Body Shape:
Showcase your athletic body shape in slim and fitted clothes. Take advantage of sports-inspired modern looks.
Trousers: Avoid baggy clothes. Find a brand with a close fit or have your trousers tailored. Stylistically, most colors and patterns should work just fine with your build. Cuffs and pleats are up to personal taste.
Shirts: Vertical stripes will make you appear a little taller. Checks and plaids add horizontal bulk, so pick which one you need based on your height.
Jackets: A blazer or suit jacket tapers your waist, making your stomach seem slimmer and your shoulders seem broader. Wear it buttoned with a single button at the waist for maximum effect.
Neckties: Stick to a normal length (the tip should be right around your belt buckle) and a normal width (about 3 to 3 1/2?). Short, skinny, fat, or otherwise oddly-sized ties throw off the balance of your torso.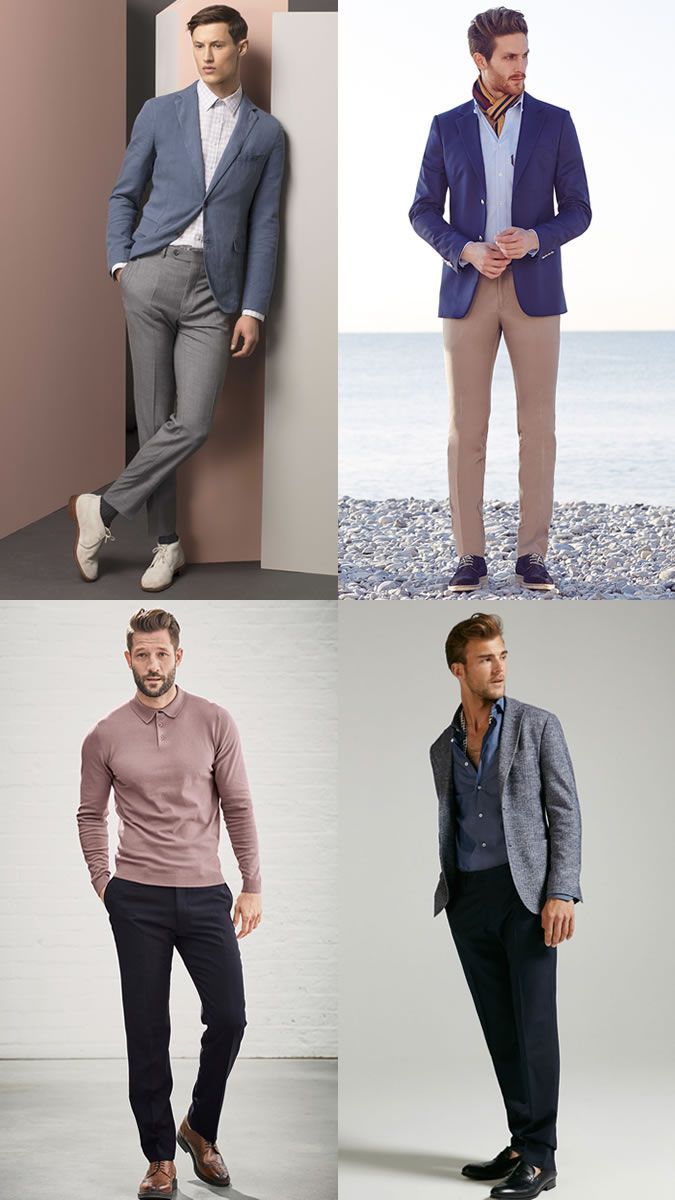 Clothing For Men With Oval Body Shape:
Keep it simple and dark. Solid colors are always good.
Trousers: The trouser waist should always be comfortably loose, never belted so tight that it pinches and wrinkles.
Suspenders:Suspenders are your best friend. Wear them whenever you get the opportunity. They hold the trouser front out slightly, letting it fall in a smooth front all the way past the crotch. Whether belted or worn with suspenders, the trousers should always be worn at the natural waist, where they can drape smoothly over the bottom of your stomach instead of squeezing it all upward.
Shirts: A good fit is crucial in avoiding either pinching and wrinkles (too small a shirt) or billows that add even more bulk (too loose a shirt). Find a brand that works for you or else have your shirts tailored. A wider collar spread works well for broad men, especially when the neck and face are broad as well.
Jackets: Dark, single-breasted, and only slightly tapered are the keys to a good jacket for big men. A sharp taper at the waist is going to be hard to button and will stretch over the stomach. Just a hint of an inward bend right around the buttons is all that's needed. The jacket gives the torso a frame, essentially putting it between two narrow lines, making it a worthwhile addition to almost any outfit.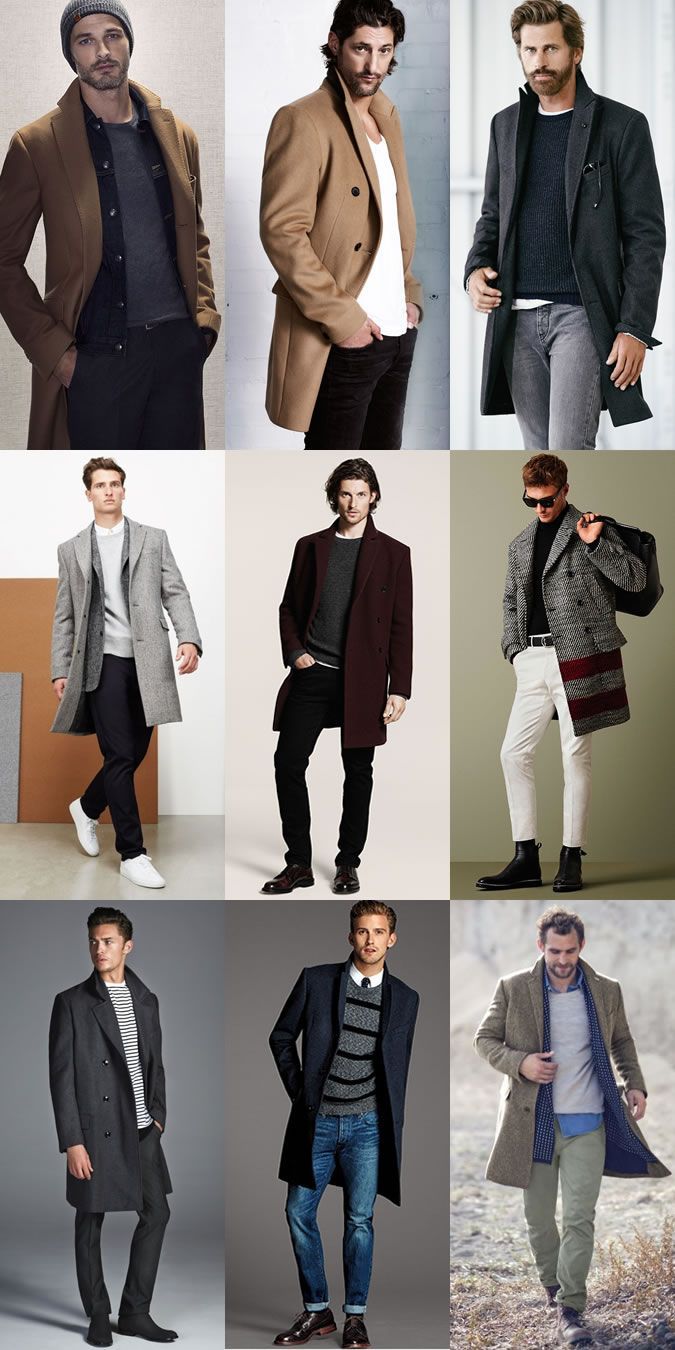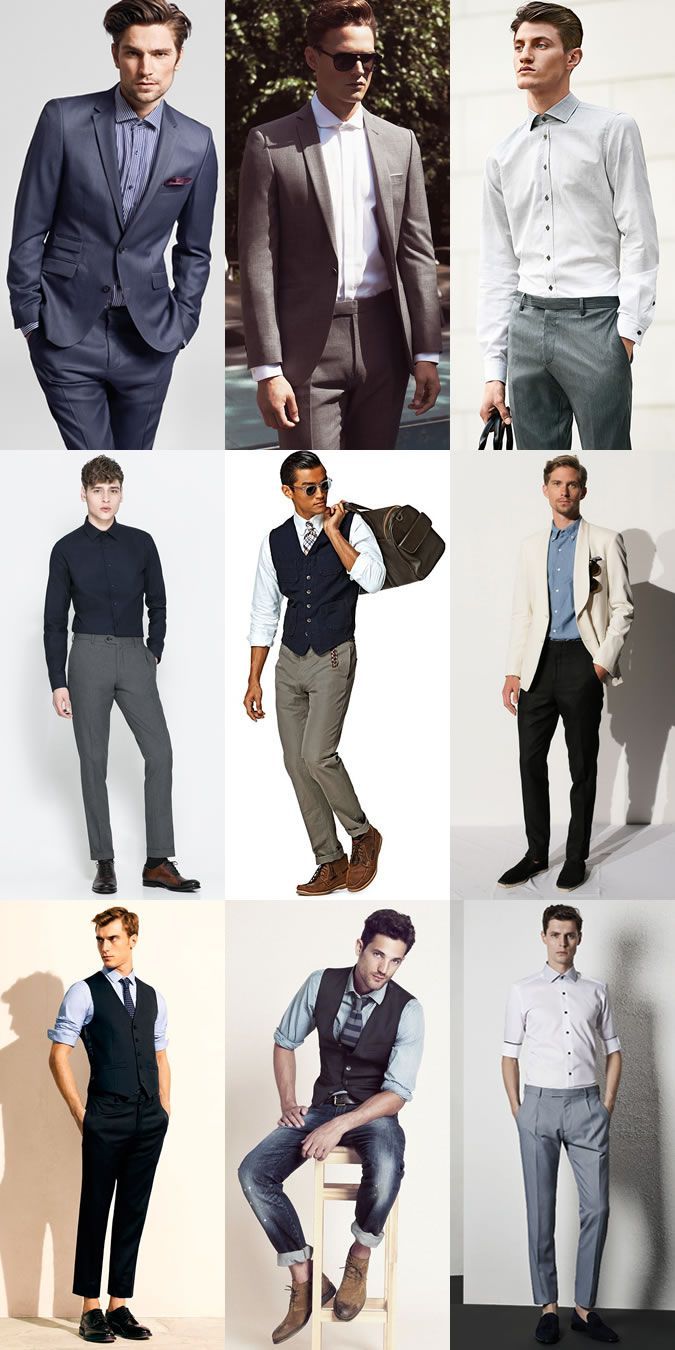 Clothing For Men With Rectangular Body Shape:
Use clothing to widen the shoulders and add the effect of a subtle taper from your top down. You'll need to create an illusion of structure.
Creating a nipped-in silhouette across the middle of the body is both key and easy to achieve,
Horizontal stripes: Especially across your upper torso (short and long-sleeved Breton tees), as theyll add width to your slight frame.
Structured tailoring: Once you've found structured blazers and suit jackets that add size to your shoulders, have your tailor take them in slightly at the back to emphasize your waist.
Layered looks: A button-down shirt and fine-gauge crew neck jumper is a no-fail pairing that'll add instant bulk to your frame.
Scarves: A neatly tied or draped scarf is an easy way to add a point of difference to your look, as well as flesh out your upper torso.
Prints, color pops, and detailing: Pops of brighter colors up top or details like epaulets will expand the dimensions of your otherwise slim frame.
If you're both average build and average height you could be in danger of blending in with crowds. Try to have a few distinct details in your outfit at all times. Just a colored pocket square in the jacket's breast pocket goes a long way. A good watch and shoes have a similar effect. A little visual clutter is a good thing, as long as it leaves the basic shape of your body (and especially your torso) intact.

Our sales team will assist you.