Man's Ultimate Guide To Belts
Man's Ultimate Guide To Belts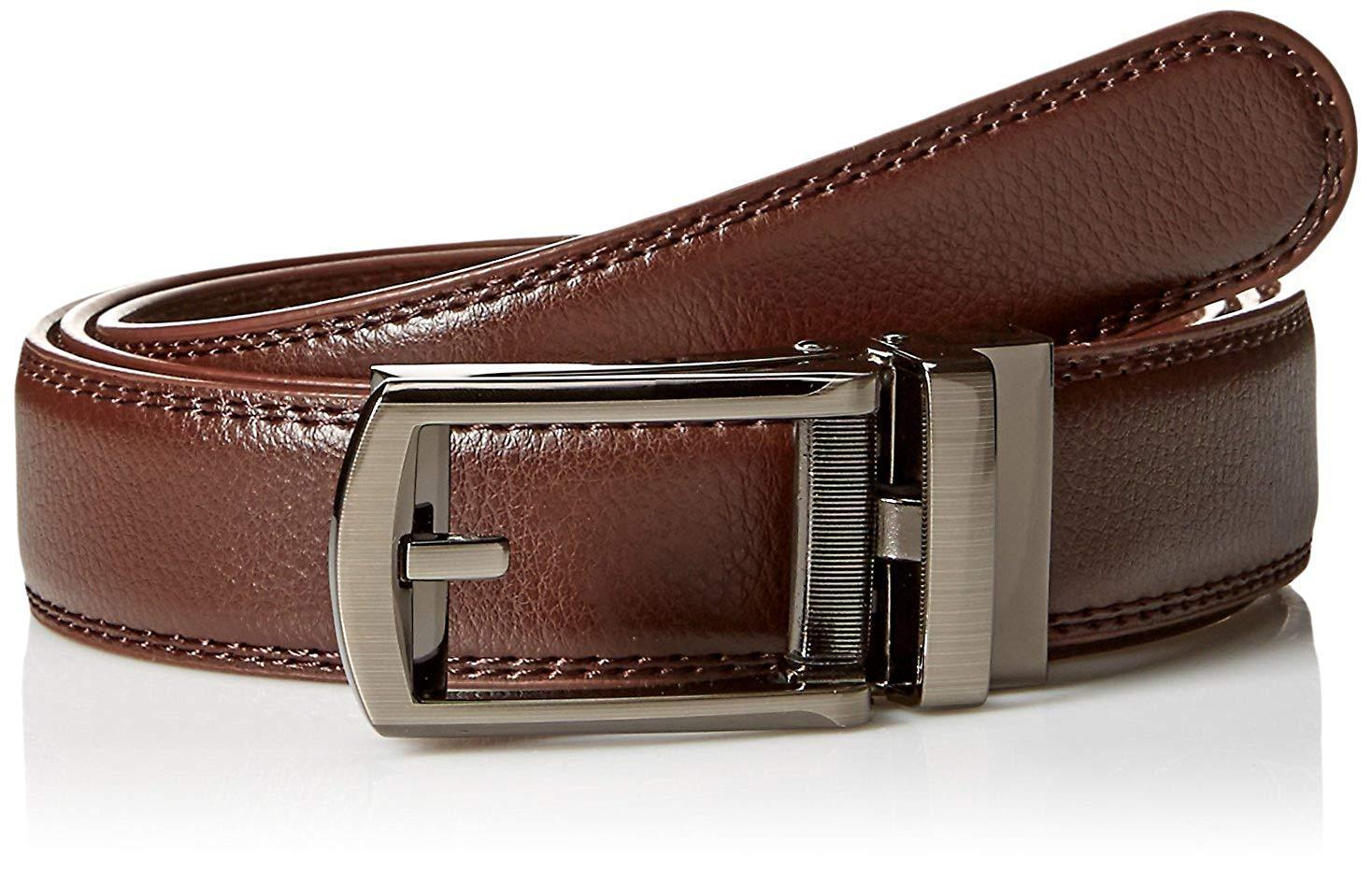 Do you know the rules for stylish belts?
Can you tell a 'jeans' belt from a 'suit' belt?
An accent belt from a statement belt?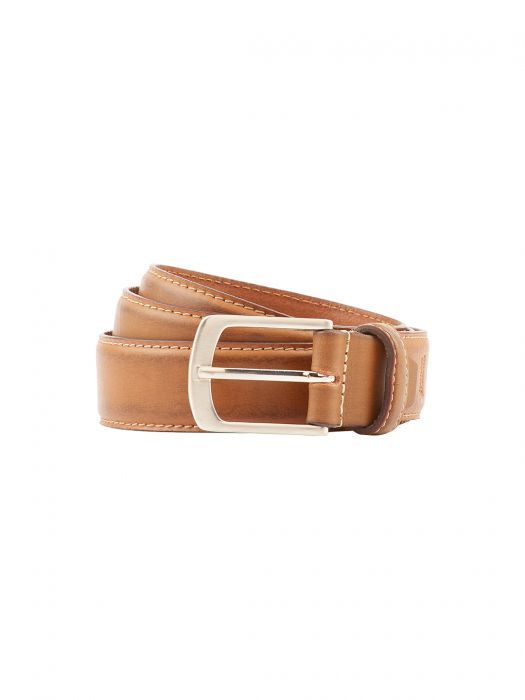 Just as with shoes, there are dress belts and casual belts, although there's overlap between the two styles. Dress belts are for wearing with suits and business attire. Casual belts can be worn with anything down to jeans and shorts.
Leather is the only suitable material for dress belts (or a really good imitation leather if you're vegetarian.)
Black and brown are the most formal colors for leather; some other colors you might see towards the smart-casual end of formal belts are oxblood, tan, navy, gray, and white for summer.
When you're wearing a formal belt, be
careful to match your leathers and match your metals - your belt should be not only the same color but also the same level of shininess as your shoes and other leather accessories, and the buckle should be the same color as your other metal accessories.
For casual occasions, you should still match your metals but you've got more leeway on the leathers - brown with tan or tan with white is fine.
In a pinch, you can also wear your formal belt with jeans. It doesn't look quite right, but it's where most men's belt collections start.
Why doesn't it look right? For a start, formal belt leather is usually shiny and sleek, while leather in casual belts is rugged and matte.
Secondly, casual leather work belts are broader, tougher, and stiffer than leather dress belts, making them great for concealed carry. They're usually made to take interchangeable buckles - anything from frame-style to a cowboy buckle.
A bigger belt buckle is less formal. Dress belts usually have a small frame-style buckle. Casual belts can have almost any buckle as long as it goes with the style of the outfit (for instance, you might want to wear cowboy boots with that cowboy buckle.)
For a shortcut to more styles, get a couple of belts with interchangeable buckles that can be swapped in and out.
Accent Or Statement?
An accent piece is subtle, low-key, and complements the rest of your outfit. It's usually in coordinating or neutral colors.
A statement piece demands attention, and contrasts with the rest of your outfit. It works best when the outfit isn't too filled with colors and patterns.
Casual belts can be accent or statement accessories. Dress belts are pretty much always accents.
Don't wear an eyecatching statement belt if you're not confident about drawing attention to your waist.
Top 3 Go-To Belts For Men
Dress belt - for business and evening wear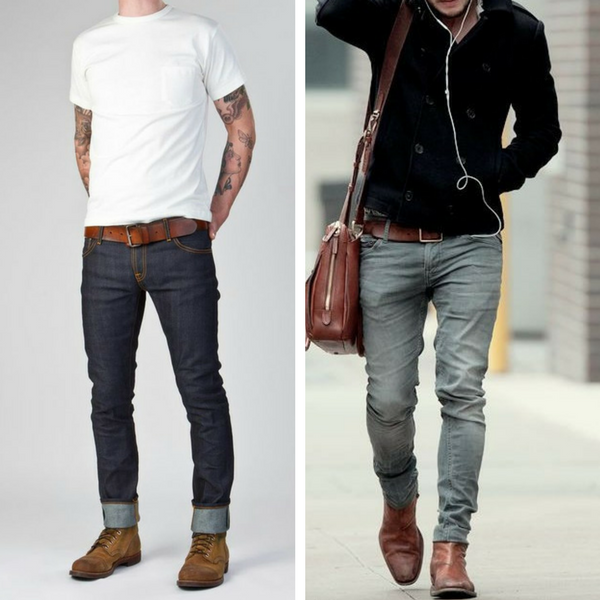 Only about 0.1 inch thick
Black or brown leather
Usually shiny
Undecorated - maybe a little broguing or hand burnishing
Small, plain, polished buckle - normally frame style
Match leathers, match metals
Casual belt -for jeans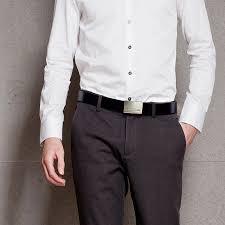 Choose a strap color that goes with your wardrobe
Strap can be patterned
Usually has a double D-ring buckle
Wear with chinos or shorts
When You DON'T Need A Belt
You don't need a belt if your pants don't have belt loops.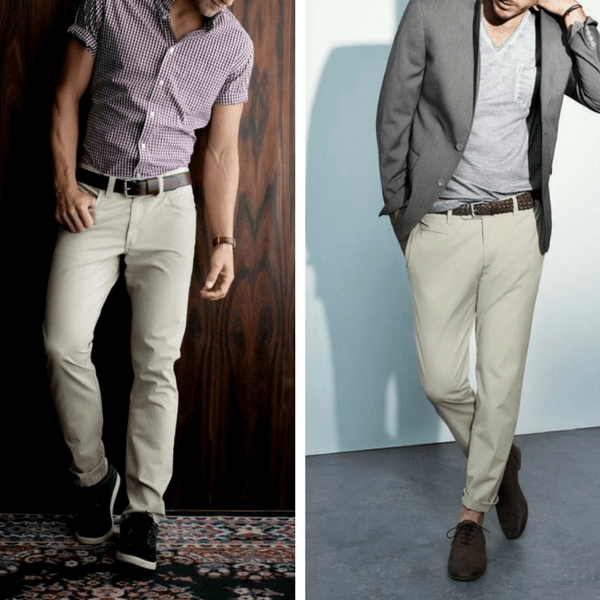 Can be thicker than a dress belt Tan or natural leather
Matte, rugged and can be braided, textured or decorated Can have a larger and/or more decorative buckle –plate, box or frame
Doesn't have to match leathers exactly (e.g. brown with tan, tan with white)
Webbed fabric belt – for summer casual
In general, you should wear a belt with all pants (including jeans) that have belt loops. Leaving it off can look sloppy. But if your outfit is looking too busy or you don't have a belt that matches it, you might be better off going beltless - provided your pants fit well enough!
You can choose suspenders as a stylish and fun alternative. Although it's a little more effort, I recommend button suspenders over clip ones, which can damage your waistband.
Suspenders are a great way of dressing well for larger men -they'll hold up your pants more effectively and reduce bulk at the waist. They also make a short guy look taller (or at least, they don't make you look shorter by breaking the line of your body the way belts do.)
Despite what you may have heard, you can wear a belt with suspenders -but only if it's a work belt. With anything less casual, it's overkill. It looks as if you either don't know what you're doing, or are just that worried about your pants falling down.

Our sales team will assist you.