No Buckle Womens Invisible Elastic Stretch Belt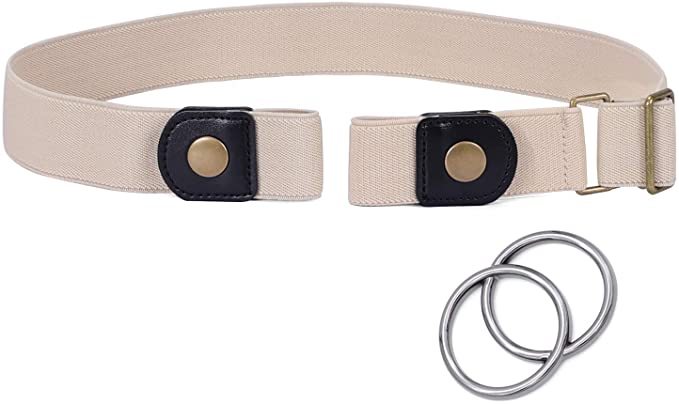 [ No Buckle Womens Belts ] The stretch belt is just an elastic band and two small piece leather with button closer. The frontless belt has no bugle in the front, and no bulky buckle appears as a lump under your shirts or pressing into your belly when sitting down or bending over. Just snap the button on your jeans loop when wearing jeans, it will fit smoothly and provide all-day, comfortable support.
[ Hold Jeans Up & No Gap ] The elastic belt is an invisible belt which works awesome on jeans and pants. The smooth elastic strap is stretchy,flexible and adjustable, it comfortably contours to your body and holds your pants up with zero discomfort, and there is no gap at your waist on the back. Even after sitting down and getting back up again, it keeps jeans right in place and won't dig into your flesh or hurt your hip.

[No More Fight A Belt When Using the Bathroon] If you don't like having to fuss with the buckle off and on when using the restroom; If your kids are learning to use the bathroom; This no buckle belt is a perfect solution to your problem. Because there is no buckle in the front, you just unbutton, unzip and you're ready to flow! No more races between the belt and the bladder!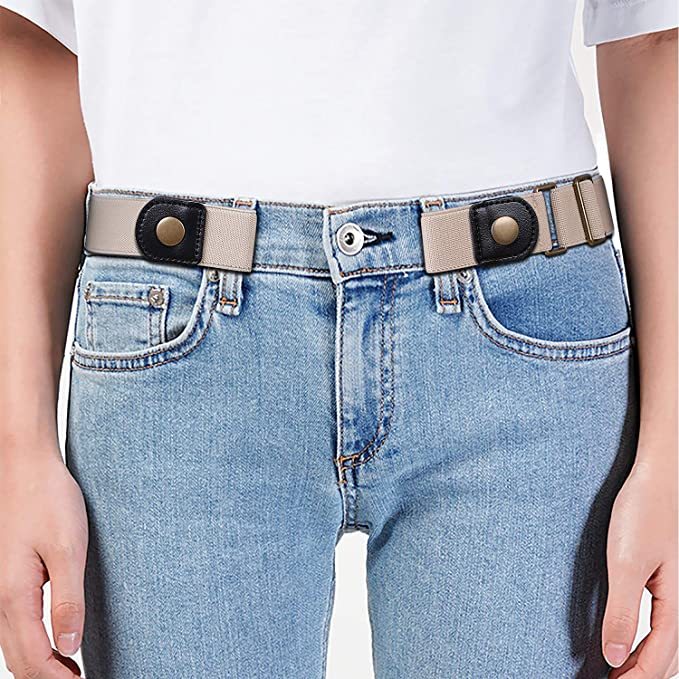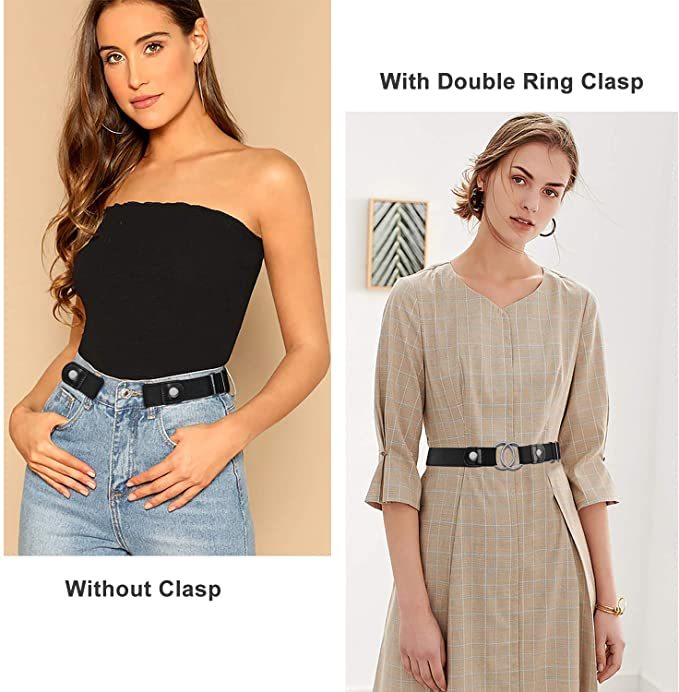 [ Standard and Plus Size Belts ] Standard Size fits for pants 22-34"; Plus Size fits for pants 32-46". To adjust the womens elastic belt, simply slide the metal adjuster,which will stay put and won't cut or dig into your skin like other bear claw adjuster. Moreover, this belt will fits nicely for any waist size. Never again end up "in between" belt holes like with traditional belts!

[ Versatile Womens Belt] Trade in your closet full of belts for one that can do it all. Pair with your favorite shirt & jeans for a quick lunch or under your suit top for a trip to the office. Going outdoors? That's ok because the belt is flexible design is ideal for activities like running, hiking or climbing. Still want a buckle? It does come with the double O ring buckle for the belt if you don't like the side snaps.