How to Order the Correct Belt Size?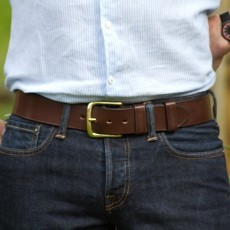 How to order the correct size leather belt
How to order the correct size leather belt seems to cause people unnecessary problems and results in my being asked the same question half a dozen times a week at least. Thanks to more than twenty years of solving this dilemma for my customers, I felt it worth sharing the solution with those of you facing such a decision or anyone who might be interested.
Taking a leather belt you use regularly, thread it through your preferred or current favourite trousers/denims. This will get around the problem of where on the body you are currently wearing them e.g. on the hips or waist which can make a difference of up to four inches.
Fasten your leather belt comfortably and in the preferred position on your waist noting carefully which hole you are using to fasten the buckle tongue through. This is usually obvious from the mark left by the buckle tongue from continued use.
Remove the leather belt and lay it flat on a table where you can now easily measure with a tape from the hole discussed above to where the leather turns through the buckle. N.B. Make sure the belt is flat on the table and is stretched out tightly and as straight as possible otherwise you will get an incorrect measurement!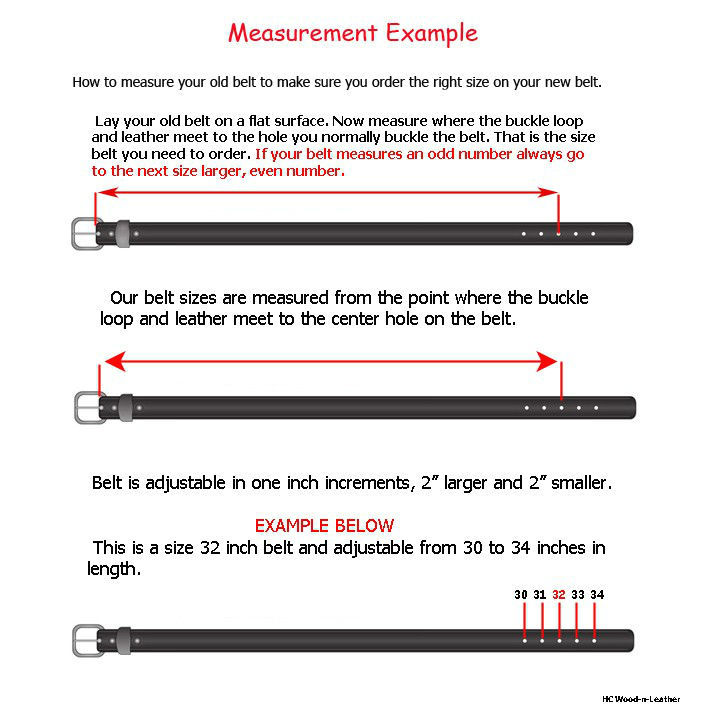 This measurement is the size of the leather belt you need to order and the reason the measuring is only done to where the leather goes through the buckle is because the length of the buckle allows for length lost in fastening and the extra circumference needed to go around the waistband which more than often is an inch or so.
We usually size our leather belts to the second tightest hole because as our leather belts are known to last for up to twenty years it allows the wearer to expand, which is more often than not the case! They can however be ordered to fasten on the middle hole but one inch of expansion on the waistline and the leather belt will look out of balance.
Hope this helps some or all of you and avoids needless disappointment and the tedious task of returning the goods.

Our sales team will assist you.