What to Do When a Belt is Too Short
What to Do When a Belt is Too Short
A simple belt could tie an outfit together, both literally and figuratively. Belts are accessories that both men and women wear, though it might be more mandatory for men in the workplace. For the most part, you'll find that a belt is one of your most versatile accessories, with several holes and links to match most body sizes.
If a belt is too long, it's usually not too much of an issue. We can always cut it or add some more holes to make it fit. On the other hand, what are we to do if a belt is too short? It might seem like there's no choice but to get a new belt, but there could be other ways.
When it comes to resizing a belt that is too short, problems occur. Some people might have a favorite belt that they do not want to lose but their waist is now too big for it. Others might have to wear that particular belt for some other reason, especially if it was a gift from someone near and dear. Another reason for wanting to wear a short belt could be that there's no other option on hand yet. You might not be able to afford a new belt or don't have the opportunity to buy one right away. If you are one of those people and going through a similar situation, then we have some ways for you to resize your belt according to your size, right at your home.
Here are two things that you can do when the belt is too short for you:
Yes, there are belt extenders available in the market to help you fit that precious belt of yours around your waist. If you think you won't be able to find it in the local market then here is the Leather Waist Belt Extender by 4Ever Fit to help you out. It can add about 2 inches to the length of your belt. The best thing about it is that it can be linked with other belt extenders too, so you can increase more than 2 inches of length if that is needed:
4Ever Fit Leather Fit Belt Extender
The 4Ever Fit belt extender can be used for men, women, and children's belts. It is available in several different widths. You can get one or more according to your requirements, which is quite useful if you want to extend the belt by several inches. Installing it is also extremely simple. All you have to do is:
Select the closest matched color and width for your belt. Even if the color doesn't match your belt, you can dye or polish it in order to make it the same color.
Remove the buckle and keeper of your belt; if you have a removable buckle, you can easily unsnap it, and if you have a buckle stitched to the belt, you can unstitch it.
Now, insert the belt prong into the extender through the slot, and then add the keeper in between the extender.
Once all the above steps are done, insert the extender's slot into your belt's buckle slot and twist to fit it inside. You can leave it as it is or re-sew it if necessary.
2. DIY Belt Extension
If the above method is a little expensive for you or you like to DIY things yourself, then try out this method. For the DIY way, you need to have elastic (which must have the same width as your belt), a measuring tape, scissors, sewing machine, leather needle, and obviously your belt.
You will need to perform the following steps:
Measure your waist (this is the area where you normally wear your belt)
Measure your belt from the inside
Now, to cut the elastic into the exact size you can use this formula:
(Waist measurement - belt measurement) + Extra inch+ elastic extension length. This will give you the exact length that you need to extend your belt in the required manner. To stay on the safe side, you can leave it a little longer.
Get scissors and cut the elastic at the calculated length.
Cut your belt in half from the exact center (This is where the extension will be attached)
The extra inch we added to the length of the extension was for a ½ seam allowance. Attach one end of the extension to the belt 's one end and top stitch a rectangular shape on the seam allowance. Repeat the same steps for the other end.
For more strength, you can sew both sides multiple times. After performing all these steps, you will have your belt extended on the cheap.
Keep in mind that this second method may be cheaper, but its durability and efficiency depends upon how well you sew. If you're not an expert at this, the extension may not hold up indefinitely. To increase the length of time you can use the second method, you may want to check it periodically and re-sew any stitching that may have come loose or is worn out.
If you do not want to throw your belt away and want to reuse it again even if you have put on some weight, then the methods described above will work well for you. You can try the one that seems easy for you to do. However, the first method is for people who can invest some money into buying a belt extender. If your budget won't allow trying this method, then you can follow the second method and get that belt of yours extended to whatever length you want.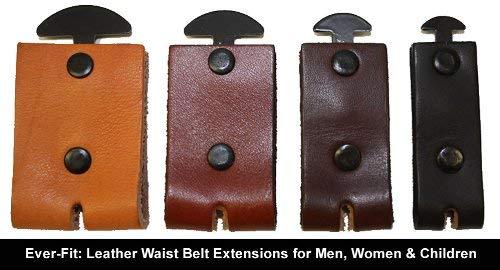 There are certain other steps you might consider when your belt is too short for your waist. These will depend on the nature of the belt, how much time you have, and several different factors.
First off, you might consider putting another hold in the belt for a longer reach. This works for shortening it too, but there should also be room for another hole there. Heating a large and thick needle, and then putting it through the belt's material might do the trick.
The second option is to try and lose weight. If all your belts are suddenly too short, along with your clothes tightening up, this could very well be a warning sign. Sudden and rapid weight gain is rarely healthy, so look into the reasons why you're facing the problem. A healthy diet coupled with exercise might be the best way to go in order to make your body fit your belt, not the other way round.
Of course, there might be non-threatening issues which might lead to your belt not fitting. If you want to wear a belt from your teenage or even childhood years, it's only natural that it won't fit anymore. You may simply want to make it fit for nostalgic purposes, or simply not have any other choice at the moment.
Conclusion
Wearing a belt might certainly help to finish off your outfit for any occasion, but make sure to take the proper precautions before conducting any adjustments. For instance, you don't want to cut up a dress belt or try to make an additional hole in it. It might also be risky to sew on a belt extender for a very expensive designer belt. If you are faced with this dilemma, it's probably better to gift this belt to someone else and get a new one.
In fact, it might be a good idea to invest in some new belts sooner rather than later. Belt extenders, holes, and other methods are all very well, but they have their limitations. You can also experiment a bit and check out this guide to buckle-free belts!

Our sales team will assist you.